Disinfect / Sanitize Commercial Kitchens Mississauga
The Mississauga Hood team understands the needs of businesses and property managers. With more than a year of experience, our technicians are trained to clean your commercial space safely and efficiently with a focus on improving indoor air quality.
Disinfect / Sanitize Commercial Kitchens
Commercial kitchens are some of the most hazardous working environments in any business. They are full of dangerous chemicals and pathogens, which can be extremely harmful to your health. In order to keep employees safe, it is important that commercial kitchen owners disinfect their kitchen . Disinfecting a commercial kitchen is one of the most important things that any business owner can do. Mississauga Hood Cleaning Pros can help you with this task
We will disinfect & sanitize your commercial kitchen and increase efficiency
The kitchen is the heart of any restaurant. It's where all food is prepared and served, so it has to be clean to ensure safety. At Mississauga Hood Cleaning Pros, we will disinfect & sanitize your kitchen from top to bottom with an eco-friendly solution that won't harm or irritate you or your employees. We also offer additional services like ovens and refrigerators at a reduced rate for those who need them cleaned as well! Contact us today for more information on how to help make sure your restaurant stays safe and healthy!
Committed to quality and service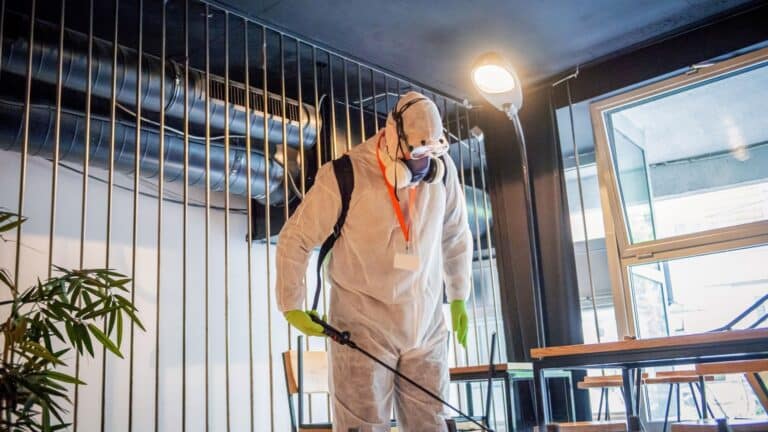 Mississauga Hood Cleaning employs an expert staff to clean commercial kitchens in Ontario and the surrounding areas. Our staff is committed to providing only the best and most thorough service for our clients.
We use only the advanced equipment to disinfect and sanitize your commercial kitchen. We offer a variety of cleaning packages to suit your needs. Contact us today for more information or get our estimate quote on the phone!
Affordability
Mississauga Hood Cleaning Pros commercial hood cleaning service is committed to delivering a quality service for an affordable price. We are different because we offer the best customer service in the industry and our prices are low. Contact us today for more information on how we can help you.
You can rely on us
Here at Mississauga Hood Cleaning Pros, we have the knowledge and expertise necessary to provide thorough cleaning services for your commercial kitchen hoods so they stay in top condition.
Custom Cleaning
Mississauga Hood Cleaning Pros provides a complete range of commercial kitchen hood cleaning services. We offer custom cleaning that is tailored to your needs, and we always use the best products on the market. Our goal is to provide you with a service that will exceed your expectations and keep your kitchen area looking clean and tidy at all times.
Do you need your commercial hood cleaned?
Mississauga Hood Cleaning Pros is a professional company that specializes in commercial kitchen cleaning. We offer affordable rates and quick turnaround times for all of our customers. Our team has years of experience, so we know how to get the job done right the first time.Give us a call today to schedule an appointment or request more information about our services online.